Classroom Activity
Level:
HS Env. Science
Standard:
SEV5.c,e
EPA's Global Warming Wheel Card is a hand-held tool that estimates household carbon dioxide emissions and explores ways to reduce them.
Activity Archives
Level: Various
Click here for an archive of science activities for the classroom.
Astronomy Corner
March brings the season of Spring. And Time.
Daylight Saving Time begins on Sunday, March 13. Officially, clocks are turned forward one hour at 2 AM Sunday morning, but most of us reset clocks Saturday night the 22nd. Don't forget!
The vernal equinox occurs Sunday, March 20 at 12:30 AM. At that moment, Earth's north pole is tilted neither toward nor away from our Sun, and our planet continues along its orbit toward summer.
February brought a glimpse of all five naked-eye planets in the early morning sky. Four are still visible during March. Just before sunrise, Venus is the brightest, low in the east. Moving toward the southern part of the sky, Saturn is next, with brightening Mars to its right (west). Jupiter is farthest to the west in the sky.
Jupiter reaches opposition - opposite the Sun from Earth along its orbit- on March 8. So as the Sun sets, Jupiter is rising, and is in the sky all night long, setting as the Sun rises. If you have a clear Thursday or Friday evening, come see Jupiter through the 36 inch reflecting telescope at Buice Observatory. It's free, and the view is great.
Previous Issues

Explore science through the theme of the "Seven Deadly Sins" as you attend seven short lectures by local scientists. Each scientist will talk about their current research or interests through the lens of one of the deadly sins. The audience will be divided into 7 groups and will rotate through each of the scientists' 10-15 minute talks. Click here for more details.
Catering will be provided by the Warren Technical School Culinary Arts Program. A different food item will be served at each of the talks!
Location: Fernbank Science Center (directions)
Date: March 24, 2016
Time: 6:30 PM - 9:00 PM
This program is intended for an adult audience, 18 and older. Tickets are $10 per person. There is a strict limit of 105 people, so get your tickets early!
Buy Tickets: http://scienceofsin.brownpapertickets.com/
---

Fernbank Science Center celebrates the Atlanta Science Festival March 19 - 25, 2016. Join us for free and educational fun for the whole family! See below for a list of events, dates and times.
Nano Day - Come kick off the Atlanta Science Festival with Nano Day! The biggest event for the smallest science is back at Fernbank Science Center. Fun and learning for all ages including story time and chemical magic.
Date: March 19, 2016
Time: Noon - 3:00 PM
Art, Math & Nature: A Fusion in Form - Brought to Atlanta by the French Consulate, experience a stunning photography exhibit by French photographer Vincent Moncorgé and take a peek into lives of mathematicians and strange mathematically-designed shapes. If you like the exhibit, come back on Friday, March 25th at 6:30 for an engaging evening of discussion with French scientist Dr. Molinier to discover how nature, arts and mathematics can come together.
Dates: March 23-25, 2016
Time: During regular operating hours.
ATL Star Party - Join our party under the stars for a look at the night sky while enjoying music that celebrates the sun, moon, and planets. Talk to an astronomer about the night sky and take a look through FSC's 36-inch reflecting telescope, one of the largest instruments ever dedicated to education and free public viewing!
Date: March 25, 2016
Time: 8:00 PM - 10:00 PM
---

Fernbank Science Center is proud to announce the Spring 2016 season of this very popular program for young students. Each Science Night Out is an evening packed with hands-on STEM activities for kids, led by Fernbank scientists, LINKS Robotics high school students, and mentors of the Fernbank LINKS Robotics team. Typical comments from previous years were, "This is so cool!" "Mom, I don't want to leave!" and "When is the next one?"
Click here for dates, times and additional details.
---

DeKalb Elementary Science Olympiad Tournament
Druid Hills Middle School
Saturday, March 19, 2016
8 am -12:30 P.M.
---
Science Article of the Month
Proven one-step process to convert CO2 and water directly into liquid hydrocarbon fuel - A team of University of Texas at Arlington chemists and engineers have proven that concentrated light, heat and high pressures can drive the one-step conversion of carbon dioxide and water directly into useable liquid hydrocarbon fuels. This simple and inexpensive new sustainable fuels technology could potentially help limit global warming by removing carbon dioxide from the atmosphere to make fuel. The process also reverts oxygen back into the system as a byproduct of the reaction, with a clear positive environmental impact, researchers said. Read More>> | More Articles >>
---
Do you have a question or a suggestion?
Please email us at:
chris_r_showalter@dekalbschoolsga.org

Teacher Resources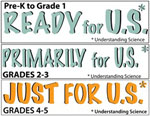 Children's Science
Newsletters
Bird of the Month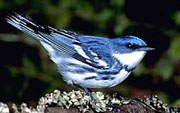 Can you I.D. this bird?
Get the answer in the next issue.
Previous Issue:Northern Flicker
Tree of the Month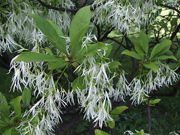 Can you I.D. this tree?
Get the answer in the next issue.
Hint:botanical name translates as "snow flower"
Previous Issue:Eastern Red Cedar

Molecule of the Month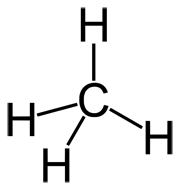 Do you know this molecule?
Get the answer in the next issue.
Hint:On a molecule-for-molecule basis, it is the most active greenhouse gas
Previous Issue:Ethylene Glycol