Sponge Question
Level: High Chem/Physics
Who discovered the atom?
Activity
Level:
4th Grade Science
Mission Adaptation - Your mission is to travel around the world, documenting animals and plants and how they adapt to their environment.
Activity
Level: 7th Grade Science
Build a Food Web - Figure out who are the predators and who are their prey and build your own food web. At the end of this activity, you can print a Food Web Certificate of Achievement!
Astronomy Corner

NASA's Destination Station exhibit visits Fernbank Science Center
April 6 - May 18, 2013
Click here for more information
Sharing the Wonders of YOUR International Space Station!
Additional Newsletters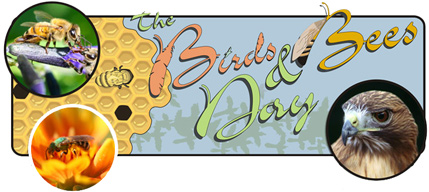 Come Celebrate "The Birds and Bees Day" at FSC
Saturday May 4, 2013
8:00 am - noon
Teachers, receive a free bird feeder by presenting your DeKalb School I.D.
Click here for more information
---

Thursday May 30, 2013
5:30 pm - 10:00 pm
You are invited to Georgia Rock*Fest, celebrating Georgia's rocks, minerals, fossils, and geologic wonders. Join the party in honor of the release of Roadside Geology of Georgia, the first book on Georgia's geology written for a general audience by geologists. Meet authors Dr. Pamela Gore of Georgia Perimeter College and Dr. Bill Witherspoon of Fernbank Science Center.
Click here for more information and to RSVP
---
Fernbank Science Center Hosts Video Conference with International Space Station - On Wednesday, April 17, DCSD students saw a live video downlink between the International Space Station and Fernbank Science Center's Jim Cherry Planetarium. In the live audience were STT students from nine high schools, plus JROTC students from Cross Keys, Towers and Chamblee High Schools. The students spent 20 minutes with the astronauts, asking them 16 questions on subjects ranging from the effects on the body of long-term weightlessness, to how crew members deal with separation from family. Commander Chris Hadfield and Flight Engineers Tom Marshburn and Chris Cassidy gave enlightening answers that were thoughtful and often humorous.
Click here for images from the event
Read more about NASA and the science center
---
Science Article of the Month
Bird navigation: Great balls of iron - Every year millions of birds make heroic journeys guided by the earth's magnetic field. How they detect magnetic fields has puzzled scientists for decades. Today, biologists have added some important pieces to this puzzle. read more>> | More articles >>
---
Do you have a question or a suggestion?
Please email us at:
fernbankmail@fc.dekalb.k12.ga.us

Teacher Resources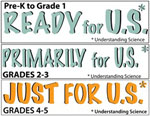 Children's Science
Newsletters
Bird of the Month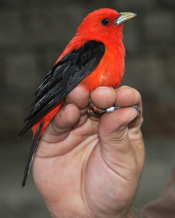 Can you I.D. this Bird?
Get the answer in the next issue.
Previous Issue's Bird:Indigo Bunting
Tree or the Month


Can you I.D. this tree?
Get the answer in the next issue.
Previous Issue's Tree: Tulip Poplar