Activity
Level:

High School Chemistry
The gas laws are a set of laws that describe the relationship between thermodynamic temperature (T), absolute pressure (P) and volume (V) of gases.
Activity
Level:
1st Grade Science
How do plants grow? Learn about how plants grow by experimenting with this interactive science activity.
Activity
Level: 6th Grade Science
Milky Way Quiz: Test Your Galaxy Smarts!
Astronomy Corner
The 2013 September equinox comes on September 22, at 2:44 p.m. EST. In the Northern Hemisphere, the sun will rise later and nightfall comes sooner. This is our autumn equinox, when the days are getting shorter in the Northern Hemisphere. At this equinox, day and night are approximately equal in length.
South of the equator, Spring begins.
Additional Newletters
Did you know...
that Fernbank Science Center provides free rock kits, seed kits and other media kits for your classroom. To see what is available and to download a request form click here.
---
TEACHER OPEN HOUSE
Saturday September 21, 2013
Fernbank Science Center invites DeKalb County teachers to a Saturday open house, as a way to familiarize you to what's available here. This will be an especially good day to visit, since our Fall Plant Sale will be taking place. You can take in our 11 AM or 12 noon planetarium shows free of charge (with your DeKalb School I.D.), and visit our Curiosity Corner for some free materials that you may be able to use in your own classroom. And remember: admission to regular planetarium shows is always free of charge to DeKalb County School employees...just bring your I.D. badge!
---

FALL PLANT SALE
Saturday September 21, 2013
8:00 am - 3:00 pm
Over 200 varieties of trees, shrubs, and flowering perennials will be available for purchase. Many of the plants are native species that are often difficult to find elsewhere!
For more information and a plant list click here
---

Join us for an informative and fun geology workshop, presented free of charge by Fernbank Science Center and the National Park Service.
Click here for more information
---

Lettuce Try It is a state-wide effort to get kids across Georgia to eat (and fall in love with!) fresh, local lettuce. Schools can sign up for free to receive resources like "How to Host a Lettuce Taste Test" and lesson plans involving lettuce for everyone from preschoolers to high schoolers! These resources will help you buy local lettuce and host successful Lettuce Try It activities at your school!
For more information and to sign up click here
---
Science Article of the Month
Researcher controls colleague's motions in first human brain-to-brain interface
Researchers have performed what they believe is the first noninvasive human-to-human brain interface, with one researcher able to send a brain signal via the Internet to control the hand motions of a fellow researcher >> more | >> more articles
---
Do you have a question or a suggestion?
Please email us at:
fernbankmail@fc.dekalb.k12.ga.us

Teacher Resources
New Professional Learning opportunities for Fall 2013!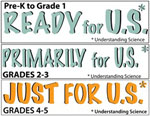 Children's Science
Newsletters
Bird of the Month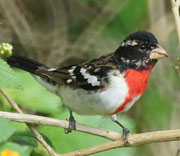 Can you I.D. this Bird?
Get the answer in the next issue.
Previous Issue's Bird:Scarlet Tanager
Archive
Tree or the Month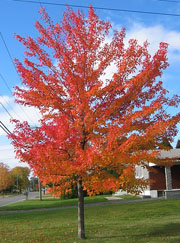 Can you I.D. this tree?
click here for the leaf
Get the answer in the next issue.
Previous Issue's Tree: Black Oak
Archive
Molecule of the Month


Do you know this molecule?
Get the answer in the next issue. Hint: Potent water-soluble antioxidant. Fruits, vegetables, and even some meats (beef, pork) are good sources.
Archive