Sponge Activity
Level: High School Biology
Do you think birds evolved from dinosaurs? Why or why not?
Sponge Activity
Level: 3rd Grade Science
What is the most venomous snake in the world?
Sponge Activity
Level: Middle School
Visit the FSC ornithology page (click here). List 5 birds that are found in Atlanta.
Astronomy Corner
Did you know that Stars twinkle because their scattered light passes through various levels of our atmosphere. As the air moves at different levels or layers, the light is bent, which looks like "twinkling" to us on Earth.
Planetarium Shows for Schools - Fall 2012
Pre-K - Grade 2
Pre-K
Kindergarten
Grade 2
Grade 4
Grade 6
Additional Newsletters
Serving DeKalb County since 1967 – Still going strong!
We are back for the 2012 school year – coming to schools and teaching science! Did you know that Fernbank Science Center offers free programs for students throughout DeKalb? We hope to visit your school soon to share one. From 1967 until the present day, Fernbank Science Center instructors have provided science opportunities both in your classrooms and at our home base. For 2012, we plan to use our instructors and resources as efficiently as possible to maximize the benefits to your students. Look for exciting new developments in our classes for students and staff development for teachers. Do you have a suggestion? Be sure to send it to us via email: dowlingm@fc.dekalb.k12.ga.us
---
Transportation and Bus Charges
Fernbank Science Center school programs are always free for your students. Dekalb County's transportation policies have changed for the current year. Due to an extremely challenging budget situation for the school district, schools must cover the transportation costs for all field trips this year, including those to Fernbank Science Center.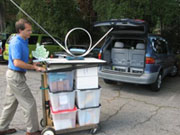 Does this pose a problem for your school? We can still come to you for free! Outreach programs allow your students to access Fernbank science expertise in your own classroom or school auditorium. Although we cannot bring the planetarium projector or Exhibit Hall, we are seeking ways to adapt as much of our programming as possible into a travel version offered at your school.
---
Fall Plant Sale
Fernbank Science Center will host their annual fall plant sale September 22nd from 8:00 am to 3:00 pm. The fall plant sale, conducted by members of the horticulture department, will include over two hundred varieties of trees, shrubs, and flowering perennials. Many of the plants for sale are native species that are hard to find anywhere else. Experienced horticulturists and master gardeners will be on hand to provide advice to anyone who needs help with their gardening problems. All money generated at the plant sale supports programming at Fernbank Science Center. Teachers click here for a 20% off coupon.
---
NSTA - An Evening at Fernbank Science Center
Fernbank Science Center will offer several workshops to teachers attending the NSTA conference in Atlanta, GA this fall. The workshops will be held at the center on Thursday November 1st, 2012 from 6-9 pm more information >>
---
Science Article of the Month
Researchers may have uncovered new evidence of ancient dentistry in the form of a 6,500-year-old human jaw bone with a tooth showing traces of beeswax filling Read more >> | More articles

Staff Development
Opportunities
Bird of the Month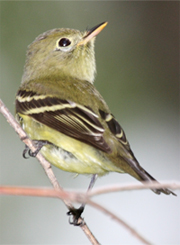 Can you I.D. this Bird?
Get the answer in the next issue.